Using the StoryBrand® Framework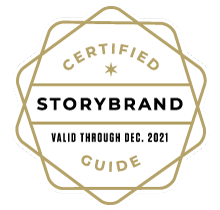 A Clear Message is Your Advantage
We know how hard it is to figure out what to say about your business in a way that prompts a customer to engage with you. If you're like many business owners, you're so close to your product or service you don't know where to start. Yet content is the heart and soul of effective marketing. 
We live in a very noisy world that is cluttered with information. It can be really hard to get someone's attention. Your customers need to know why you matter to them–quickly. 
As specialists in the StoryBrand® Marketing Framework, we are trained and certified to create a clear message that gets results. We help you communicate your value in a way that compels customers to engage with you. 
We help you rise above the noise and show your customers why you're
vital to their success.
Words Matter - Words Sell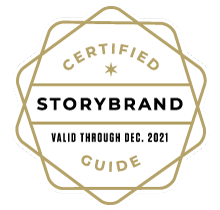 How you talk about your business is just as important as what you're offering. The words you use will either attract or repel customers. But, if you're like many business owners, you struggle to describe what you do in a way that prompts your potential customers to engage with you. 
As specialists in the StoryBrand® Marketing Framework, we are trained and certified to create clear, concise, and compelling messaging that will make your website and all your marketing materials attract the customers who want what you do best. 

When you work with us to craft your message, you'll see the results in your revenue.
Never waste your time and money on ineffective marketing again.
How many potential customers can't hear your offer in the sea of noise? 
Have you read the StoryBrand Book or taken the Online Course but need help crafting your message?
Are you struggling to get new leads?
Do you need a repeatable process for creating marketing collateral?
Do you want objective feedback from an outside marketing expert?
Are you growing quickly and your message hasn't evolved as your company has grown?
Are you losing money because potential customers can't understand what you're all about?
Are you trying to get your messaging right so it brings in more business?
Is it difficult to explain what you do?
Are you missing out on new business because your message is jumbled or boring?
Is your brand narrative inconsistent and confusing?
Do you need to redesign an old or ineffective website and want to start the process with a dialed-in, compelling brand message?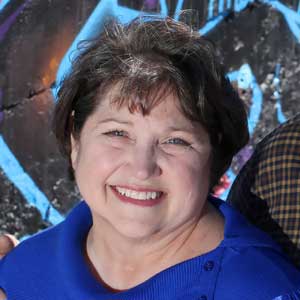 "OMG we could not, could not, could not be more pleased. We learned who we are as a company, what really matters and how we want to be represented. This was far more than creating a website...it was creating a brand and an identity that we only thought we were sure of. Words cannot express the value of your knowledge, support, understanding and unbelievable patience as we worked through the real discovery of our business identity."
– Tina Worker, Business Manager, Works Global, Ltd.
Discover how the StoryBrand® Process has helped businesses like yours quadruple in revenue.
We use the StoryBrand® Framework with B2B and B2C companies such as:
Architecture firms
Attorneys
Consultants
Engineering firms
Manufacturers
Non-profits
Retail
Service-based companies
Small businesses
Solopreneurs
Sports teams
...and more!
Never be held back again.
Three ways to create the most magnetic narrative you've ever had about your business:

Brand Narrative Sessions
In these sessions, we'll listen to your challenges and opportunities. You will be heard to such an extent that if you ever had any doubt about what you're offering to the world, you will become certain and clear. 
When you become clear in who you are as a business, what you offer, and how you help, your brand speaks for itself. Then it's a matter of asking, "How fast do you want to grow?"
We'll work together to identify and eliminate what might be confusing to your customers. Then, we'll provide fresh insights to clarify your brand and grow your business. 
A magical transformation happens when we go through this process. You'll feel light, free, and certain. By getting at the heart of your brand, it will be easy to talk about what you offer in a compelling way, and you won't come off as a pushy salesman.  
You can use your new and improved messaging to create your website, emails, brochures, sales scripts, elevator pitches and more. Your business will finally break through that plateau that once felt impossible.


Home Page Blueprint
This is also know as a wireframe. Because all roads lead back to your website, it's essential that it prompt customers to engage with you. The design, structure, and writing must be constructed specifically for your prospective customer. We use a proven formula and years of experience to create and order the contents of your home page so that it attracts the very people who want what you do best.


Tagline & One-Liner
Marketing is what we do to have your business be seen and heard. Branding is what we do to have people remember you. A tagline and a powerful "one-liner" statement are key components of a strong brand. Having a memorable company message will unify your team, turn your staff into marketing messengers and turn your prospects into customers. 

Freedom and prosperity
come with clarity and the right plan.