If you haven't yet upgraded to Joomla 3.3, now you've got an excellent reason: an integrated Microdata library. Microdata, sometimes called structured data or rich snippets, allows websites to tell search engines more specifically what type of information is contained within a page. Think of Microdata as red flags that announce a page's key details: I'm all about an event! or I'm telling you about my type of business! or I'm giving you information about a specific location!
Microdata is coded into a site's HTML, so it's not visible to viewers, but it's visible to search engines that crawl through page upon page of information before producing the most relevant results. Microdata is more accurate than traditional metadata because it gives content-specific detail rather than page-specific detail.
Plus, Microdata can boost a site's Search Engine Optimization (SEO) and help people find your website quickly and effectively. Microdata makes it possible for you to tell a search engine exactly what type of information is contained in each paragraph, each phrase, or even each word on a page.
Microdata code is sourced from schemas, at schema.org, which provides a myriad of contextual markup vocabulary, as you'll see in the examples below. Search engines including Bing, Google, Yahoo! and Yandex rely on this markup, and they have come together to provide this shared collection of schemas that webmasters can use.
Just the list of specific markup for local business type is amazing, e.g. accounting service, attorney, brewery, financial service, general contractor, hospital, medical clinic, plumber, physician, veterinary care, winery, etc.
Microdata in Action
Let's take a look at two examples. First is one of the most common uses of Microdata — a business location.
Without Microdata, the text would look like this:

With Microdata, notice the additional level of specificity the green text provides:

Second, let's consider an example of posting a job opening on your website.
Without Microdata: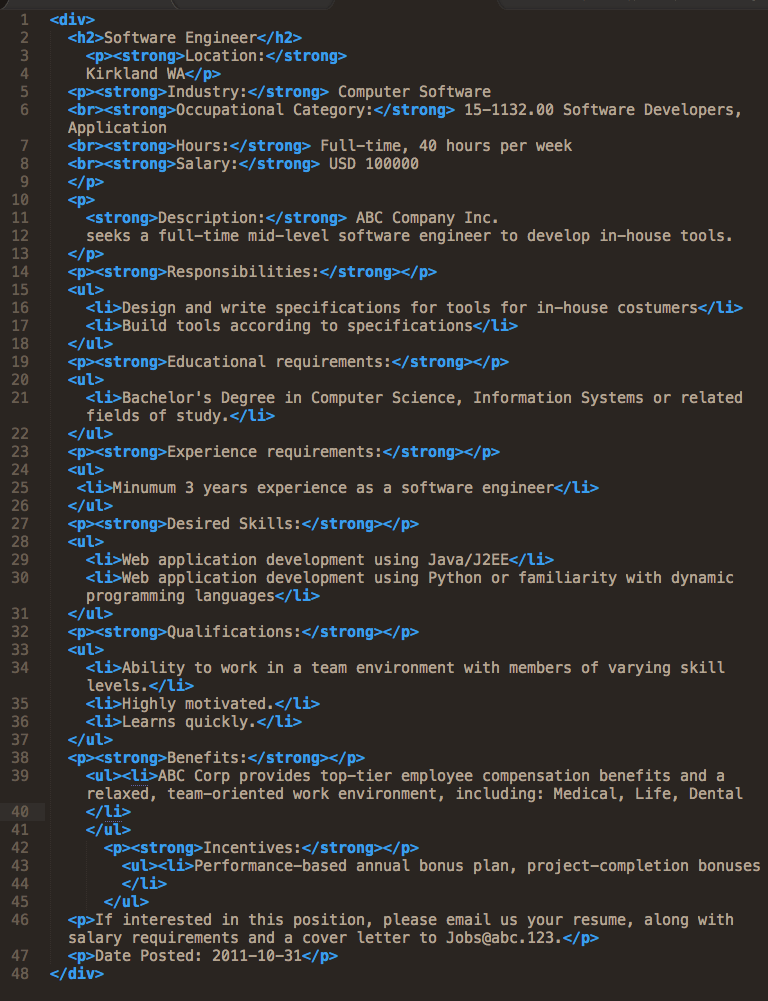 With Microdata, again notice that the green text adds specificity: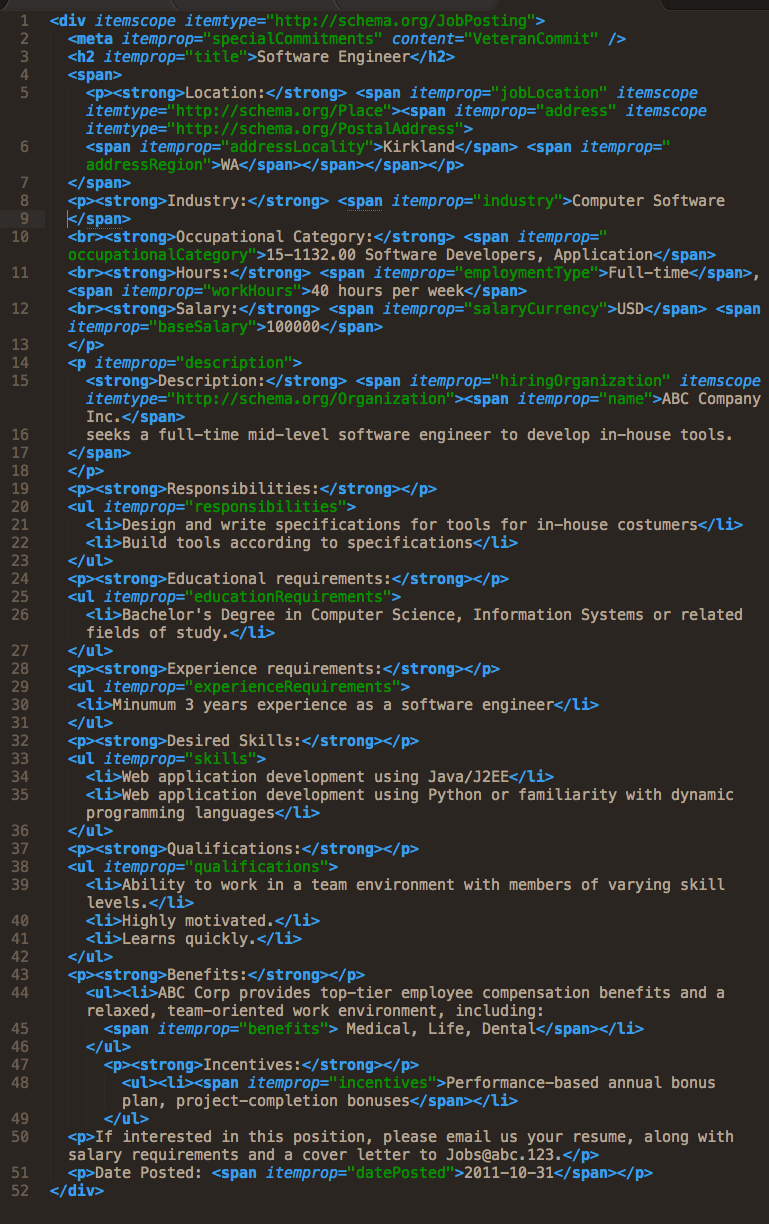 While the markup might look confusing here, it won't show up any differently on the page for your website's readers. It's simply part of the page's HTML code to give search engines specific details about what's contained within the text.
Joomla and Microdata
Ultimately, Joomla 3.3's integrated support for Microdata offers a more effective way to attract readers to the specific information they really want and need. When people find what they wanted to find on your site, they'll have a positive and memorable experience.
To learn more about Joomla and Microdata, see this document: http://docs.joomla.org/Microdata, or watch this video: Joomla! Microdata Implementation - YouTube
– Karen Dunne, Principal and Lead Designer at Maven Design Studio